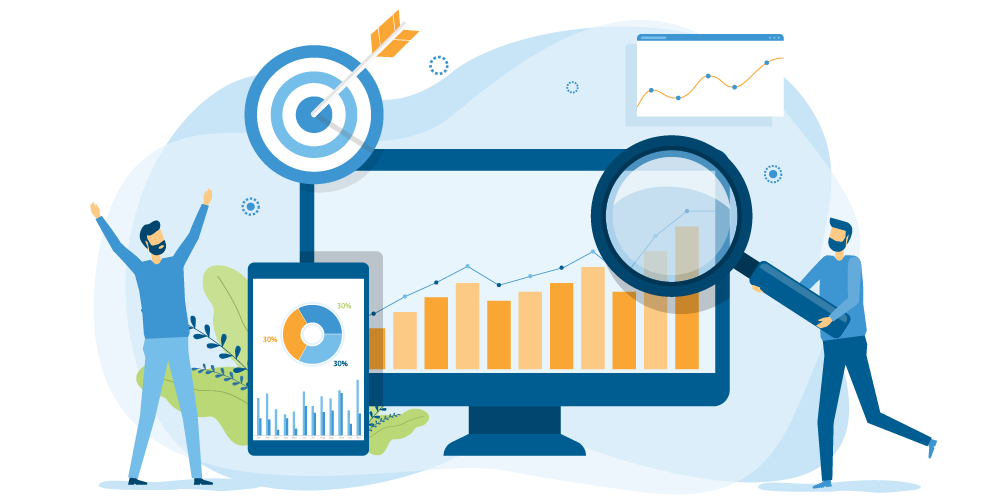 Posted on
July 16th, 2021
5 Reasons Why You Should Hire a Digital Marketing Agency
Implementing a full digital marketing strategy is crucial for your business. More and more people are taking part in online shopping and who could blame them? With a few clicks of a button, you could browse a whole shop's inventory to find the right product you want, without having to travel to the storefront and spend your time walking up and down aisles. You can find anything you want online just from one Google search.
Many businesses don't have the option to employ a full-service in-house digital team to deal with their SEO, social media, PPC, content marketing, email marketing etc. This is why outsourcing digital marketing needs has become popular – with the right agency, your business can flourish.
So, if you've been mulling over the idea and are now asking yourself 'Why should I hire a digital marketing agency?', we've got the answers you need. Here's 5 reasons why you should hire a digital marketing agency!
1. A Team of Experts
Wouldn't it be great to have a team of fully qualified digital marketing specialists at your disposal? Well, that's exactly what a digital agency offers. Each member of a good agency has been trained thoroughly in digital marketing, gaining qualifications along the way and expanding their knowledge with each month working in the field. Most have got years of experience and are ready to implement this into your business. They know what they're doing.
2. Different Sets of Skills
Each member of a digital marketing team will be skilled in multiple of the following: SEO, Google ads, social media ads, content writing, remarketing, social media management, CRO, email marketing and more. Imagine how expensive and time consuming it would be to employ an in-house team who specialise in every single aspect of digital marketing. With a digital marketing agency like Piranha, you've already got all of these marketing techniques to look at for your business with someone who is skilled and knows how to implement each technique.
3. More Time to Focus on Your Business
Employing a digital marketing agency gives you more time to focus on your day job. Dealing with clients, staff, holding meetings, product launches and more. It would be near-impossible for you to try and implement a successful digital marketing strategy on top of all that. Digital marketing is a full-time job in itself, and you certainly don't want two. Many businesses end up trying to do it themselves, only doing half a job and then wondering why it's not working. Leave a skilled agency to focus on your marketing, it's much less stressful and provides more results.
4. New Perspective
A lot of businesses often find themselves stuck in a hole, not improving on the number of enquiries or customers they're getting per month and they don't know how to fix it. Often trying to use old solutions to fix new problems. With a digital marketing agency, you can gain new perspectives from experts. The team will come up with new and fresh ideas for your business and how you can improve your online presence and get more leads. It's their job to assess your marketing efforts and how they can improve on them.
5. Cost Efficient
You might be thinking 'How is paying a digital marketing agency cost efficient?', well, it's simple. If you hired an in-house team full of qualified experts, that would be extremely expensive. Imagine the cost of recruitment, training, wages, resources and more. Each of your team would be paid a wage and need office space and a PC. What if you need to expand? You'd have to recruit more people and rent or purchase more office space, leaving less money for you and your business. There are also tools you'd have to pay for such as website crawlers, analytics, keyword research, paid management, automation tools, competitor analysis, social media scheduling tools and more. If you hire a digital marketing agency, you won't have to worry about any of this.
Choosing the right digital marketing agency
Now, all these reasons sound great and may make you want to dive into hiring a digital marketing agency ASAP. However, there's a catch – similar to most industries, there are 'bad' agencies within the digital marketing field who won't be able to offer you any of the above. Some agencies don't follow best practice and don't spend as much time on their clients as they should. Whether you're hiring a gardener, builder, plumber, joiner, personal trainer or a digital marketing agency, it's important to find the right one otherwise the outcome might not be what you wanted. Digital marketing is a long & continuous process, so steer clear of those who claim you'll see 'instant' results – there's simply no such thing as instant results in digital marketing.
We might be slightly bias, but we reckon Piranha would be the perfect choice for you. We take pride in ensuring our clients' digital marketing strategy is top quality. We will work with you every step of the way; we'll take your goals and targets on board and work towards meeting them. Whichever digital service you require, we can provide it.
Piranha has an in-house team full of experts that are ready to implement your digital marketing strategy.
We hope we've answered your question of why you should hire a digital marketing agency. If you're interested in the services Piranha offer, please don't hesitate to contact us.
< Back to Blog